Pediatric Potentials' Company Profile
Founded in 2003 by Rebecca Taylor, a licensed Occupational Therapist, Pediatric Potentials evolved from a pediatric home health service in Southwest Montana into a comprehensive clinic, community, and home based pediatric Occupational Therapy service. The clinic is based in central Bozeman where Pediatric Occupational Therapists Rebecca Taylor and Sarah Nicholas share therapy space and collaborate treatment with Tanis Trenka, Speech Therapist and Shawna Heiser, Behavioral Specialist. Pediatric Potentials has become, through hard work and provision of comprehensive OT services for children, one of the most respected individually owned private practices in the area.
Pediatric Potentials strives to be a valuable member of each child's team. Each child is unique and has their own team. Pediatric Potentials continually communicates with those involved, whether it be sending a note to the doctor about feeding/eating progress, coordinating equipment orders with the local equipment providers, attending a school team meeting, or sending equipment information via email to a family. Quality team communication by Pediatric Potentials also includes prompt return phone calls and email replies, which play an important role in creating a cohesive and well informed team.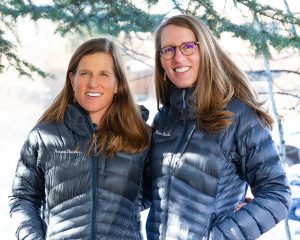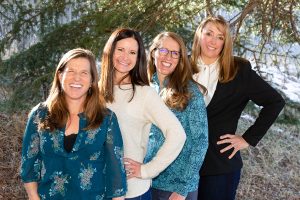 Three businesses working together to provide complete Children's Therapy Services in Bozeman.
Image left to right: Rebecca Taylor (Pediatric Potentials), Tanis Trenka (Trenka Speech & Language Services), Sarah Nicholas (Pediatric Potentials), and Shawna Heiser (Special Learning 1-on-1). 
Children's Therapy Services
Pediatric Potentials   |   Special Learning 1-on-1   |   Trenka Speech & Language Services
Pediatric Potentials has a unique and innovative treatment space. We are located in the same clinic and work collaboratively with two other independent businesses. All three businesses operate as Children's Therapy Services.